Archive for January 17, 2011
These 94 Fleer USA cards don't pop up too often, so I just wanted to track it. I have no idea what this might sell for, but my rough guess is anywhere from $30-$75. It ends in six days.
UPDATE, JANUARY 25: Auction ended at $73.88
Larry Johnso 94 Skybox USA $73.88 1/23/11 300515919515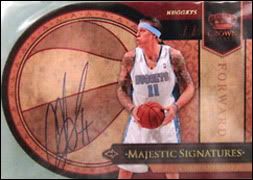 Chris Anderson 10 Crown Royale Majestic Signatures /99 $46.00 1/10/11 250751741048
This sale caught my eye the other day. Fourty six bucks for Birdman, one of the most colorful players in the league. I guess he doesn't have many autographs, so the fact that this is limited to 99 made a few Anderson and set collectors go strong for it.
On another note, I love this set and think there are quite a few people putting this set together. Sales are pretty consistent across the board and some of the shorter printed cards are getting nice sales. I started tracking it regularly only a few weeks ago, and I definitely plan on following consistently. I have a feeling prices will be going up as the short prints are getting harder to find on ebay and the demand is still there.
The last Magic Johnson /23 that I tracked sold for $99.99 in early November 2010. There is currently one on eBay that is already at $136 with over a day left.
The last Allen Iverson /25 that I tracked sold for over $300 in early November. There is one currently on eBay that is at $51 with six days left on it.