Archive for December 16, 2008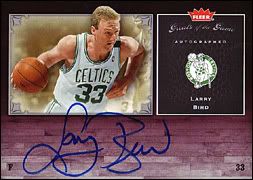 Larry Bird 05 Fleer Greats of the Game $138.50 12/30/07
Larry Bird 05 Fleer Greats of the Game $195.00 4/07/08
Larry Bird 05 Fleer Greats of the Game $125.94 4/16/08
Larry Bird 05 Fleer Greats of the Game $100.00 4/18/08
Larry Bird 05 Fleer Greats of the Game $80.00 4/22/08
Larry Bird 05 Fleer Greats of the Game $114.37 5/16/08
Larry Bird 05 Fleer Greats of the Game $96.07 6/15/08
Larry Bird 05 Fleer Greats of the Game $92.00 6/17/08
Larry Bird 05 Fleer Greats of the Game $72.55 9/07/08
Larry Bird 05 Fleer Greats of the Game $109.99 9/15/08
Larry Bird 05 Fleer Greats of the Game $140.00 9/16/08
Larry Bird 05 Fleer Greats of the Game $149.50 9/17/08
Larry Bird 05 Fleer Greats of the Game $47.00 12/16/08
The latest Larry Bird 05 Fleer Greats of the Game went amazingly low. Check out the end price for a lucky collector!
Bill Russell 99 UD Century Legends $576.66 9/13/08
There is one ending in about 45 minutes on eBay. The last one ended at nearly $600, while another rare Bill Russell, 01 UD Century Legends autograph ended at $600 a few days ago. The is only the second one I have seen appear on eBay the whole year.